Enjoy the tastes of fall!  This one comes to co-op members courtesy of the Sojourns Community Health Clinic.  We would love to see your favorites!  If you have a great Thanksgiving recipe to share, please send it along.
WINTER SQUASH
Fall in New England offers a bountiful, colorful harvest with many varieties of winter squash, such as butternut, acorn, hubbard, delicata, and spaghetti squash.  Winter squash are sweet to taste and full of beta-carotene, vitamin C, folic acid, and fiber.  They can add nutritional value, color, and flavor to any dinner table.
Squash can be used in numerous ways, such as added to muffins, pancakes, and quick bread, or simmered in water with onion, carrots, and curry powder to make a delicious soup.  Baking squash retains the most nutrients and is easy to do.  Baked squash can be eaten plain or sprinkled with cinnamon, nutmeg, cardamon, and allspice for increased sweet flavor. Save the seeds to toast with dried herbs for a crunch and some essential fatty acids.
Quinoa Stuffed Acorn Squash
Makes 4 servings
3 acorn squash, halved and seeded
1 Tablespoon butter or olive oil
½ cup chopped onion
½ cup quinoa, rinsed and drained
1 cup chicken or vegetable stock or water
½ teaspoon salt
1/8 teaspoon black pepper
¼ cup chopped hazelnuts or almonds, toasted
2 Tablespoons chopped fresh parsley
Grated cheese
Arrange winter squash cut side down in a baking pan.  Add ½ inch water to the pan and cover with aluminum foil.  Bake at 350 degrees F until the squashes are tender, 45-55 minutes.  Leave the oven on.  Let the squash cool.
Heat oil in a large skillet over medium heat.  Add onions and cook stirring until golden, about 8 minutes.  Stir in quinoa, heat stirring, until toasted, about 3 minutes.  Stir in stock or water.  Bring to a boil, reduce the heat, and simmer, covered for 15 minutes.  Uncover and let cool slightly. (Brown rice may be used instead of quinoa but will take 45 minutes)
Scoop out and dice the pulp of 2 squash halves.  Turn the other halves cut side up and season with salt and pepper.  Combine the quinoa and scooped out squash.  Stir in nuts and parsley.  Spoon into the squash cavities, distributing evenly.  Sprinkle with cheese on top and bake until heated through and cheese melted, about 20 minutes.
Stacey London-Oshkello, MS, RD, CD is a nutritionist who promotes a diet based on locally grown, whole foods.  Stacey teaches nutrition classes for parents of young children throughout the region, runs a farm-to-kitchen program called Garden Meals, and counsels individuals at Sojourns Community Health Clinic. She counsels clients with many types of dietary goals and conditions, and specializes in issues with weight loss, feeding children, and food allergies.
The Fall Mountain Food Shelf has recently lost a key source of food donations and it hurts:  the food shelf is one of New Hampshire's busiest pantries for people in need, helping between 1,100 and 1,300 families in a typical month, and those families feel the loss.  Donations to the food shelf have fallen off noticeably and the Great River Co-op is stepping in to help. 
 
To fill the gap, the co-op has placed drop-off boxes for the food shelf at the Walpole and Alstead/Langdon transfer stations, also known as recycling centers or "dumps". Eventually, we all have to go to the dump.  When you do, please bring along some non-perishable items to leave in the boxes. The Alstead drop box is in a heated area so glass containers are fine but please avoid glass jars at the Walpole drop box as it is in an area not always well-heated and glass can freeze and shatter.  Please spread the word about the boxes so we can make sure all of our neighbors have access to food.  Call Ben at 603-445-2200 or e-mail info@greatriverfoodcoop.com if you have suggestions for additional drop box locations and watch for new locations coming.
By Erbin Crowell & Bonnie Hudspeth, Neighboring Food Co-op Association
Imagine you are a poor mill worker in the north of England in the mid 1800s. The Industrial Revolution has made production more profitable, but it has also cost skilled artisans their jobs and concentrated wealth and control among a small group of factory owners. Many in the community are unemployed, while others don't make enough to afford basic groceries. What would you do to provide healthy food for your family? How might you work with your neighbors to improve the lives of people in your community?
On December 21, 1844, after years of organizing and experimentation, a group of weavers, workers and community activists opened a modest grocery store on Toad Lane in Rochdale, England.  Their goal was to provide basic goods members such as butter, flour, oatmeal and candles. Their vision, however, was a transformation of the food system and economy.  Read more here.

The Great River Co-op has received a $50,000 matching grant from the Walpole Foundation to help capitalize the business.  The co-op will receive the gift after raising an additional $50,000 from member-owners and other private donors.
"The significance of the Walpole Foundation's support can't be overstated," says Kim Mastrianni, president of the co-op's board of directors.  "The foundation understands the key role of agriculture in the Great River region's past and present economies, in preserving open space, and a way of life that the people who live here cherish.  With its gift, the foundation is investing in the co-op's mission to secure and strengthen that vision and the region's agricultural economy."
The Walpole Foundation's gift also lifts the co-op past the two-thirds mark in its fund-raising campaign. 
Building the co-op's store on Route 12 in Walpole, installing equipment, purchasing inventory, and operating the store until it pays its own way is a $2.1-million venture, according to projections developed by the Monadnock Economic Development Corporation (MEDC) and the nationally-respected CDS Consulting Co-op.  Commitments by MEDC and Bensonwood, the store's developer, total $1.4 million, leaving the co-op to raise $700,000.  The Walpole Foundation's grant brings the co-op more than two-thirds of the way to reality.
If our members and the community will join in the effort, the store could be built a year from now.  All together now!
The team at Bensonwood, our builder, has offered us a great idea that could give us a more elegant building, cut the co-op's operating cost, and involve the Great River community:  if we can collect donations of 100 to 150 hemlock trees (and donated or reduced-price logging and milling services), the Great River Co-op's home could be a Bensonwood-built timber frame structure.
Bensonwood is hoping for old hemlocks but other species also might work.  The trees should be mature and tall.  If you have trees to offer, or ideas of people we can approach to ask for trees, please call Ben at 603-445-2200 or e-mail trees@greatriverfoodcoop.com.
Help plant the seeds.  Click here to make it happen.
Tedd Benson, Bensonwood, and the Monadnock Economic Development Corporation have joined us as partners to build and open the store.  But your fellow member-owners need you to help.  Click here to see the three ways you can take part.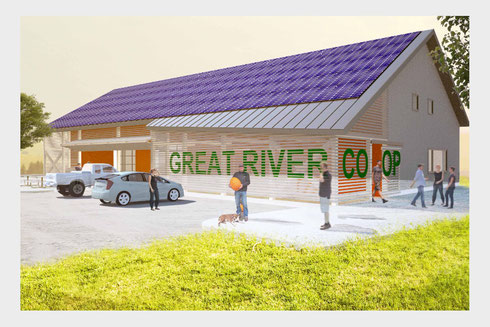 The co-op has a location.  Tedd Benson and his team at Bensonwood are designing our store's building.  The Monadnock Economic Development Corporation is working with us to secure $2.2 million in funding.  But the Great River Co-op's market can become a reality only if we all step up.  Click here to learn how you can help make it happen.
Members gathered at the Great River Co-op's third annual meeting on Tuesday, April 29.  Our guests were Jack Dugan, president of the Monadnock Economic Development Corporation (MEDC); and Tedd Benson, renowned timber-frame builder and founder of   Bensonwood.  Both organizations are partners in the creation of the co-op's store.
Tedd presented a preliminary sketch of the building and site plan.  The barn-shaped building will begin as a 4,000-square-foot structure, the initial size recommended by our market study, and is designed to be easily expandable to 6,000 square feet when needed.  The south-facing side of the roof is planned to be lined with photovoltaic panels and Tedd explained that, within our budget, he hopes to make this a "net zero" building – producing as much power as it uses.  Bensonwood will design and build the store.
Jack outlined the $2.2-million plan to open the store next year.  Both Bensonwood and MEDC will invest directly and will jointly own the store building.  Those investments will be combined with a series of grants, low-interest loans, participation in the state's tax-credit sales program, and an investment from the Great River Co-op.  The funds not only will allow the building to be built; they also will equip and stock the store and give the co-op several months of working capital.  At several points in the future, the Great River Co-op will have the option, but not the obligation, to buy the building.
The co-op's share of the investment is $750,000, which will be raised over the next 12 months through the sale of membership shares and gifts and loans from members.  The co-op's fund-raising campaign will begin shortly.  Watch for details and think about how you can participate. 
The co-op can't happen unless each of us takes a role.  Look for details soon.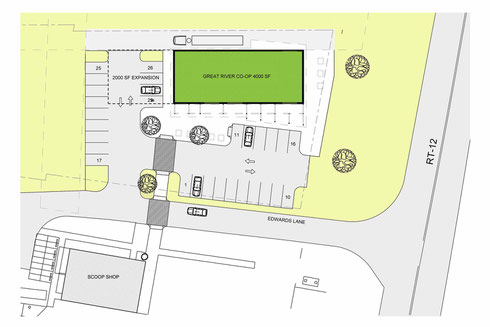 You can share in the co-op's profits. 

You can help bring much-needed foodstore competition to our region.

You'll shop at a community market stocked every day with meat and produce raised right here.
You'll help strengthen and expand local agriculture and protect open land.
You'll shop at a family-friendly store that won't stock sugary cereals at kids' eye level, stack candy bars by the cash registers, or have what retailers call a "Mommy, I want" aisle filled with impulse purchases.
You'll have a say in the products the store carries.
You can have a voice in governing the co-op.
The co-op's profits stay in our community.
You can help to develop community education programs through the co-op.
Joining now can make it possible. Your memberships and donations will give the co-op additional capital and demonstrate the community support this initiative needs to stay on track.