Look for it at stores, libraries, banks, and other locations around the Great River area.  If you don't see it, let us know and we'll try to place copies there too.
By AMANDA LITTLETON
                The New England Food Vision has a bold goal of 50 by 60. That is 50 percent of the food consumed in New England will be produced in New England by 2060.  Currently, in the state of New Hampshire, all the food our hard working farmers produce is estimated to be about 4-6 percent of food demand.   
                According to one of the authors of the Food Vision, it will take an estimated 16 million acres to feed New England's 14.5 million people but the region has just 2 million acres of active farmland. The dramatic shift proposed for our landscape is just one of the many challenges that we need to overcome to achieve this vision for New England agriculture.  
               The biggest challenge that remains is for our farm businesses to become more profitable if we want to see current businesses grow and new ones start. According to census data, the net cash income per farm in Cheshire County is $3,047. Farming is a high investment and high risk business.
                When you ask a farmer about challenges they are facing, the weather is one of the first things to come up because each growing season brings a new set of challenges.  As the climate changes weather events will become even more unpredictable bringing additional tests to profitability.
               More intense precipitation in the Northeast has the potential to damage crops, delay spring plantings and result in lower yields. Warmer temperatures may extend the growing season but insect pests may show up earlier in the season and with greater intensity. Warmer temperatures are also a concern for livestock who don't tolerate high heat well in the summer.   
                To address these growing challenges the US Department of Agriculture (USDA) has created Climate Hubs to deliver science-based adaptation information to provide the tools farmers need. The Northeast Hub is located in Durham NH.  This builds on the good work of UNH Cooperative Extension and the valuable education they offer to NH farms in all growing conditions. 
               One really positive thing farmers have been doing to adapt their growing practices to the weather are constructing high tunnels.  Locally, in Cheshire and Sullivan County, the USDA has worked with farmers to install 41 high tunnels and 25 more are contracted to go up in 2016.  The tunnels provide a constant temperature for seedlings  helping them develop a good root system so they'll survive once planted outside.
               Beside climate unpredictability, another challenge is access to land. The NH Department of Agriculture Markets and Food Commissioner Lorraine Merrill has said that the biggest threat to agriculture is the loss of farmland. Unfortuneately, NH is one of the top five states that have developed the greatest percentage of their agricultural land. Between 1982 and 2007, NH has converted 13 percent of all agricultural land to development and as the economy picks up the threat for more conversion strengthens.   
             The news is not all bad. Locally we are very lucky to have the Monadnock Conservancy, a land trust that works directly with landowners on permanent conservation agreements. In 2014, they hired a project manager who is focused primarily on farmland conservation and they are ramping up their number of new farmland conservation projects. In the pipeline now are eight new farmland projects totaling nearly 500 acres in the Monadnock Region.
            The challenges for agriculture in New Hampshire today are many, but the opportunities are also great. Community support for agriculture in our region is strong and continues to grow.
             Farmers are continuing to innovate by creating value-added products to improve net profitability of their businesses, embracing agritourism to bring in needed revenue, exploring new markets for their products and adopting innovative management practices to steward the valuable natural resources on which we all rely. 
           The success of New England agriculture adds much value to the quality of life in our region and with continued community support it will develop and prosper.   
Amanda Littleton is District Manager of Cheshire County Conservation District and is based in Walpole.
The link to Food Vision. http://www.foodsolutionsne.org/sites/default/files/LowResNEFV_0.pdf
Text and photos by MariLou Blaine
The Goldings of Saxtons River are pure gold in the world of fiber arts.  Their craftsmanship of  fiber tools is unique, innovative, precision-designed, well-machined, expertly performing and breathtakingly  beautiful.
Tom Golding learned woodworking when in 1965, at age 17, he entered the Navy civil service and apprenticed as a boat builder for three years at the Naval shipyard in San Francisco. After that, he built a few house boats and did custom renovations on homes.  "It was the late 1960s and '70s," said
Diane, his wife. "The whole back-to-the-land movement was starting and Tom was definitely part of that, and I was too."
The Goldings, hoping stay in the western U.S., began looking for good farmland, first in California, then in Colorado and New Mexico. It was all too expensive, Diane said. So they decided to move back East
to be near Diane's parents in Massachusetts where they lived on a five-acre farm for nine years. Then they spent a couple years on Main Street in Newfane where Tom had a thriving business making custom furniture and wood carvings.   It was here he helped co-found a community art group called Arts Network.  "There was a weaver there," Tom says.  "She needed a loom. It was my first experience in building a tool like that. It was an important experience because that made me think about incorporating more machinist-type work with the woodworking."
Tom also studied intricate, detailed classical European woodcarving with Nora Hall, who was well-know in Europe and had emigrated from Holland after World War II.  For Tom, the experience affirmed that he was "doing things right, on the right path."  
Meanwhile, while driving her older son Seth to a friend's home in Saxtons River one day, Diane passed a farm for sale.  They eventually bought Meadowsweet Farm in 1999 and Tom immediately began building a large two-story barn. He put in plenty of large windows on the first floor where the machining would be done.  The second floor, which is used to process orders, conceive designs, tests tools and send out products and bills was made even more bright and sunny. There are ten skylights on the roof and a wall-size window on the outh side and sliding glass doors leading to a deck on the north side. And it all takes
just one cord of wood to heat in the winter.
With more than 10 acres of pasture on the 58-acre farm, a friend suggested Diane breed sheep.  he
decided on Icelandic sheep, mainly because "they are hardy and you don't have to dock their tails."
With fleece from the sheep, the next natural step was to learn to spin so she asked Tom to make her a drop spindle.  A drop spindle is an evolution of the hand spindle, an ancient tool used by many cultures for making yarn. It has a straight shaft that goes through the middle of a spherical object or wheel called
a whorl.  It has a hook, groove or notch to guide the fiber that is twisted or rotated by hand to yarn.
Tom came up with the RingSpindle, which has a weighted metal ring around the edge of the whorl. "This increases spin time." Diane said. "No one else has a drop spindle designed like this. We started selling
these right away."
Each whorl has a one-of-a-kind carving or decorative top that may be hand-painted, made from an enamel pill box top, an unusual button or even a scrimshaw carving, soldered stained glass or hammered brass.
The spindles come in different diameters to accommodate different yarn weights.  Noticing that there was a large spinning community out there, Tom began focusing on other fiber tool products. It was a natural
progression to go from making a drop spindle to a spinning wheel, which is now his main product.
The spinning wheel that Tom designed took several prototypes, Diane said.  Tom would make one and Diane would test it telling him how it was reacting.  Diane also tests all the spinning wheels now made
before they are shipped to their owners all  over the world. Tom calls it a "real ma and pa operation."
The spinning wheel Diane demonstrated was heading for California for a woman who loved Savannah cats. It is made of black walnut and Savannah cats are carved on the wheel as well as the back of a
spinning chair, which has no arms. The post in the middle looks like a fence post.  
Tom also designed a spinning wheel that has three flyers, which means that a spinner can spin more than one type of yarn at the same time and the yarns can be combined if the spinner wishes. The flyer is the U-
shaped part of a spinning wheel that twists (spins) the yarn. The arms of the flyer have threading hooks to allow yarn to wind onto the bobbin.  After the development of the drop spindle and the spinning wheel, the Goldings hit the road traveling to fiber shows including one of the largest in Rhinebeck, N.Y.
Diane said it would often take  more than month to put together everything for that show, taking hundreds of drop spindles with them as well as other fiber tools and spinning wheels. Today, a full-page color advertisement in Spin Off magazine is all the advertising that the company does to fill the demand for Tom's spinning wheel and other products.
Tom custom designs about four spinning wheels a year and builds one loom. There's a constant demand for their other products.  He has two paid high school apprentices.  The help arrive after school. One is from Bellows Union High School and one from Christian Academy in Claremont.
Now that their son Seth is in the business, making a less expensive spinning wheel at his operation in Essex Junction, Vt., Diane sees herself back at Rhinebeck and other shows on the East Coast.
As for Tom, he's found a real niche utilizing all his tools, his woodworking and carving expertise and his mechanical ability.  "Making these tools is a real combination of woodworking and machinist work," Tom said.  "The wood carving is the frosting on the cake."
By Erbin Crowell & Bonnie Hudspeth, Neighboring Food Co-op Association
Imagine you are a poor mill worker in the north of England in the mid 1800s. The Industrial Revolution has made production more profitable, but it has also cost skilled artisans their jobs and concentrated wealth and control among a small group of factory owners. Many in the community are unemployed, while others don't make enough to afford basic groceries. What would you do to provide healthy food for your family? How might you work with your neighbors to improve the lives of people in your community?
On December 21, 1844, after years of organizing and experimentation, a group of weavers, workers and community activists opened a modest grocery store on Toad Lane in Rochdale, England.  Their goal was to provide basic goods members such as butter, flour, oatmeal and candles. Their vision, however, was a transformation of the food system and economy.  Read more here.

The Great River Co-op has received a $50,000 matching grant from the Walpole Foundation to help capitalize the business.  The co-op will receive the gift after raising an additional $50,000 from member-owners and other private donors.
"The significance of the Walpole Foundation's support can't be overstated," says Kim Mastrianni, president of the co-op's board of directors.  "The foundation understands the key role of agriculture in the Great River region's past and present economies, in preserving open space, and a way of life that the people who live here cherish.  With its gift, the foundation is investing in the co-op's mission to secure and strengthen that vision and the region's agricultural economy."
The Walpole Foundation's gift also lifts the co-op past the two-thirds mark in its fund-raising campaign. 
Building the co-op's store on Route 12 in Walpole, installing equipment, purchasing inventory, and operating the store until it pays its own way is a $2.1-million venture, according to projections developed by the Monadnock Economic Development Corporation (MEDC) and the nationally-respected CDS Consulting Co-op.  Commitments by MEDC and Bensonwood, the store's developer, total $1.4 million, leaving the co-op to raise $700,000.  The Walpole Foundation's grant brings the co-op more than two-thirds of the way to reality.
If our members and the community will join in the effort, the store could be built a year from now.  All together now!
The team at Bensonwood, our builder, has offered us a great idea that could give us a more elegant building, cut the co-op's operating cost, and involve the Great River community:  if we can collect donations of 100 to 150 hemlock trees (and donated or reduced-price logging and milling services), the Great River Co-op's home could be a Bensonwood-built timber frame structure.
Bensonwood is hoping for old hemlocks but other species also might work.  The trees should be mature and tall.  If you have trees to offer, or ideas of people we can approach to ask for trees, please call Ben at 603-445-2200 or e-mail trees@greatriverfoodcoop.com.
Help plant the seeds.  Click here to make it happen.
Tedd Benson, Bensonwood, and the Monadnock Economic Development Corporation have joined us as partners to build and open the store.  But your fellow member-owners need you to help.  Click here to see the three ways you can take part.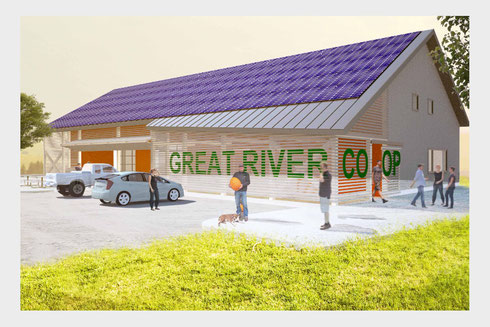 The co-op has a location.  Tedd Benson and his team at Bensonwood are designing our store's building.  The Monadnock Economic Development Corporation is working with us to secure $2.2 million in funding.  But the Great River Co-op's market can become a reality only if we all step up.  Click here to learn how you can help make it happen.
Members gathered at the Great River Co-op's third annual meeting on Tuesday, April 29.  Our guests were Jack Dugan, president of the Monadnock Economic Development Corporation (MEDC); and Tedd Benson, renowned timber-frame builder and founder of   Bensonwood.  Both organizations are partners in the creation of the co-op's store.
Tedd presented a preliminary sketch of the building and site plan.  The barn-shaped building will begin as a 4,000-square-foot structure, the initial size recommended by our market study, and is designed to be easily expandable to 6,000 square feet when needed.  The south-facing side of the roof is planned to be lined with photovoltaic panels and Tedd explained that, within our budget, he hopes to make this a "net zero" building – producing as much power as it uses.  Bensonwood will design and build the store.
Jack outlined the $2.2-million plan to open the store next year.  Both Bensonwood and MEDC will invest directly and will jointly own the store building.  Those investments will be combined with a series of grants, low-interest loans, participation in the state's tax-credit sales program, and an investment from the Great River Co-op.  The funds not only will allow the building to be built; they also will equip and stock the store and give the co-op several months of working capital.  At several points in the future, the Great River Co-op will have the option, but not the obligation, to buy the building.
The co-op's share of the investment is $750,000, which will be raised over the next 12 months through the sale of membership shares and gifts and loans from members.  The co-op's fund-raising campaign will begin shortly.  Watch for details and think about how you can participate. 
The co-op can't happen unless each of us takes a role.  Look for details soon.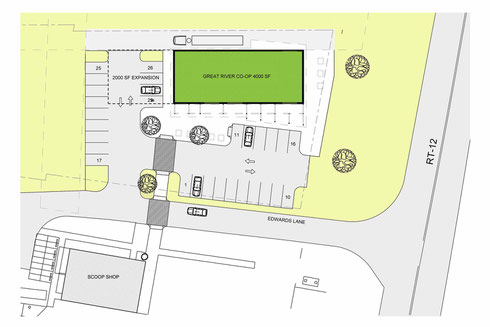 You can share in the co-op's profits. 

You can help bring much-needed foodstore competition to our region.

You'll shop at a community market stocked every day with meat and produce raised right here.
You'll help strengthen and expand local agriculture and protect open land.
You'll shop at a family-friendly store that won't stock sugary cereals at kids' eye level, stack candy bars by the cash registers, or have what retailers call a "Mommy, I want" aisle filled with impulse purchases.
You'll have a say in the products the store carries.
You can have a voice in governing the co-op.
The co-op's profits stay in our community.
You can help to develop community education programs through the co-op.
Joining now can make it possible. Your memberships and donations will give the co-op additional capital and demonstrate the community support this initiative needs to stay on track.