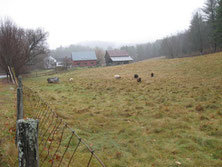 Text and photos by MariLou Blaine
The Goldings of Saxtons River are pure gold in the world of fiber arts.  Their craftsmanship of  fiber tools is unique, innovative, precision-designed, well-machined, expertly performing and breathtakingly  beautiful.
Tom Golding learned woodworking when in 1965, at age 17, he entered the Navy civil service and apprenticed as a boat builder for three years at the Naval shipyard in San Francisco.

After that, he built a few house boats and did custom renovations on homes.  "It was the late 1960s and '70s," said Diane, his wife. "The whole back-to-the-land movement was starting and Tom was definitely part of that, and I was too."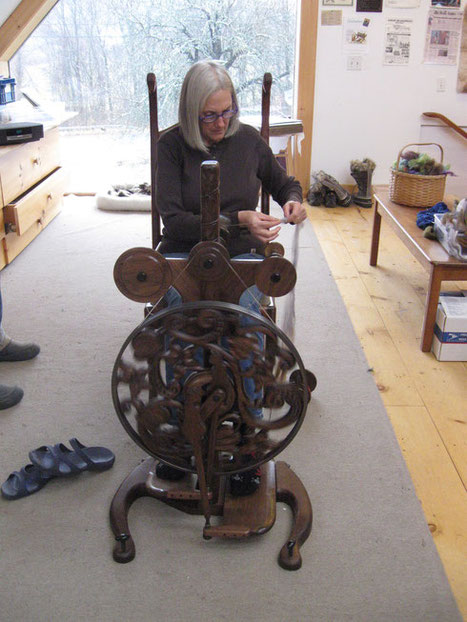 The Goldings, hoping stay in the western U.S., began looking for good farmland, first in California, then in Colorado and New Mexico. It was all  too expensive, Diane said. So they decided to move back East to be near Diane's parents in Massachusetts.
            They chose West Brattleboro where they lived on a five-acre farm for nine years. Then they spent a couple years on Main Street in Newfane where Tom had a thriving business making custom furniture and wood carvings.
             It was here he helped co-found a community art group called Arts Network.  "There was a weaver there," Tom says. "She needed a loom. It was my first experience in building a tool like that. It was an important experience because that made me think about incorporating more machinist type work with the woodworking."
            Tom also studied intricate, detailed classical European woodcarving with Nora Hall, who was well-know in Europe and had emigrated from Holland after World War II.  For Tom, the experience affirmed that he was "doing things right, on the right path."
Meanwhile, while driving her older son Seth to a friend's home in Saxtons River one day, Diane passed a farm for sale. They eventually bought Meadowsweet Farm in 1999 and Tom immediately began building a large two-story barn. He put in plenty of large windows on the first floor where the machining would be done.  The second floor, which is used to process orders, conceive designs, tests tools and send out products and bills was made even more bright and sunny. There are ten skylights on the roof and a wall-size window on the south side and sliding glass doors leading to a deck on the north side. And it all takes just one cord of wood to heat in the winter.
            With more than 10 acres of pasture on the 58-acre farm, a friend suggested Diane breed sheep. She decided on Icelandic sheep mainly because "they are hardy and you don't have to dock their tails."
            With fleece from the sheep, the next natural step was to learn to spin so she asked Tom to make her a drop spindle.  A drop spindle is an evolution of the handspindle, an ancient tool used by many cultures for making yarn. It has a straight shaft that goes through the middle of a spherical object or wheel called a whorl. It has a hook, groove or notch to guide the fiber that is twisted or rotated by hand to yarn.
            Tom came up with the RingSpindle, which has a weighted metal ring around the edge of the whorl. "This increases spin time." Diane said. "No one else has a drop spindle designed like this. We started selling these right away."
            Each whorl has a one-of-a-kind carving or decorative top that may be hand-painted, made from an enamel pill box top, an unusual button or even a scrimshaw carving, soldered stained glass or hammered brass. The spindles come in different diameters to accommodate different yarn weights.
            Noticing that there was a large spinning community out there, Tom began focusing on other fiber tool products. It was a natural progression to go from making a drop spindle to a spinning wheel, which is now his main product. The spinning wheel that Tom designed took several prototypes, Diane said. Tom would make one and Diane would test it telling him how it was reacting. Diane also tests all the spinning wheels now made before they are shipped to their owners all over the world. Tom calls it a real ma and pa operation.
            The spinning wheel Diane demonstrated  was heading for California for a woman who loved Savannah cats. It is made of black walnut and Savannah cats are carved on the wheel as well as the back of a spinning chair, which has no arms. The post in the middle looks like a fence post.
            Tom also designed a spinning wheel that has three flyers, which means that a spinner can spin more than one type of yarn at the same time and the yarns can be combined if the spinner wishes. The flyer is the U-shaped part of a spinning wheel that twists (spins) the yarn. The arms of the flyer have threading hooks to allow yarn to wind onto the bobbin.
            After the development of the drop spindle and the spinning wheel, the Goldings hit the road traveling to fiber shows including one of the largest in Rhinebeck, N.Y. Diane said it would often take  more than month to put together everything for that show, taking hundreds of drop spindles with them as well as other fiber tools and spinning wheels. Today, a full-page color advertisement in Spin Off magazine is all the advertising that the company does to fill the demand for Tom's spinning wheel and other products.
            Tom custom designs about four spinning wheels a year and builds one loom. There's a constant demand for their other products. He has two paid high school apprentices. The help arrive after school. One is from Bellows Union High School and one from Christian Academy in Claremont.
            Now that their son Seth is in the business making a less expensive spinning wheel at his operation in Essex Junction, Vt.,  Diane sees herself back at Rhinebeck and other shows on the East Coast.
            As for Tom, he's found a real niche utilizing all his tools, his woodworking and carving expertise and his mechanical ability. "Making these tools is a real combination of woodworking and machinist work, " Tom said. "The wood carving is the frosting on the cake."