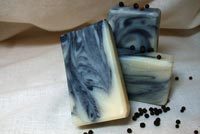 "Most people don't realize that the bars we buy on store shelves aren't soap," says Judy Lidie. "They're detergents – synthetic compounds designed to get oil and grease out. It's like dish detergent. That's why what we buy are called 'bath bars' or 'body bars'. The makers can't say that they're soap."
But Judy can. She crafts her hand-made soaps one small batch at a time with all the right ingredients – essence of lemon and tangerine, almond oils, blackberry, and even chocolate.
True soap doesn't contain surfactants and other chemicals that detergents do but is a blend of an alkaline – usually lye – and an acid in the form of an oil. Judy uses olive, coconut, and palm, among others, "but you can use any kind of plant oil or animal fat," she says. "Lard is actually one of the best soaps. But if you tell people that they're washing with lard, they go, 'yuck'."
So, when she wants to reach beyond oils, Judy foregoes fats in favor of a gentler animal product. "I make a sheep's milk soap using milk from the Vermont Shepherd," she explains. After it debuted, "I got two calls in a week from cheese shops in New York City wanting to carry my soap" after seeing it at the Vermont Shepherd shop. "So I have two accounts in New York City," she says with pride.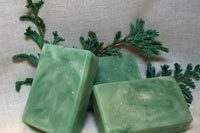 The secret to making a soap that's both a cleansing agent and an indulgence, she says, is favoring oil or milk over lye. "If you use the exact amount of lye to react with all of the oil, you get a bar that isn't very moisturizing. If you add a little extra oil that will remain, the soap will moisturize. I think that's one of the secrets to my success as a soap maker."
The other is small batches – usually 16 bars at a time made in her kitchen. First, she melts oils then blends in the lye after the oils have cooled, and, as the final touch, adds the scents and spices. After pouring the jelly-like mix into molds, she consigns the block of soap-to-be to her oven for an hour at 170ºF. "If I don't put it in the oven, sometimes the middle of a batch doesn't gel and you get something that looks like a bull's-eye," she says.
After leaving the batch to cool overnight, she slices it into bars and stores them in curing racks in her basement for a month or more. "The longer you let the soap cure, the milder it is – and it lasts longer," Judy explains. "You can use soap the day after you make it but it disappears quickly. The liquid used to make the soap has to evaporate out so the soap will be firm and last longer." When a bar is aged, she bevels each edge with a cheese slicer – "I keep saying I'm not going to do that but it makes it look really neat" – and hand-wraps it in recycled paper.
Judy came to the art of soap-making indirectly. Her oldest daughter took her to a Vermont country spa for a birthday treat in 2005. In each room, there was tiny jar of body cream that she says was "magnificent." She wrote down the ingredients from the label, ordered them all, and tried to replicate the result. "Of course I couldn't, but I tried and tried," she says. "I found some soap recipes on the Internet and decided to try those and was much more successful."
At first, she squeezed soap-making around her job with Vermont's court system, using vacations and days off to pursue her new passion. Later, she found herself fitting in her court job around her growing soap business. When the state's courts consolidated and she was offered an early retirement, she became a soap-maker full-time. Her "Grace & Miss Mouse Soaps" are now sold in Townshend, Chester, and Amherst, New Hampshire, in addition to New York City. Locally, Harlow's Farm Stand showcases her wares.
But her ambition is to make soap, not make an empire. "I don't want to get big enough to have to hire help," she notes. "I want to do it all myself so I know exactly what's in each bar and how it's being done."
She'd like to do fewer craft shows and work with more retailers but she doesn't want to give up shows entirely. "I like talking with people and explaining the process and how wonderful this is for your skin," Judy says. "Soap entails so much more than most people know. It's not just 'a bar of soap'."