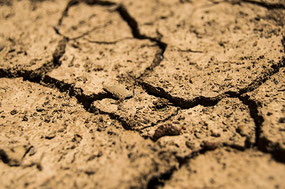 Gardening in dry times
Jeremy DeLisle
Q: My garden is really struggling this season with the prolonged dry weather conditions. Could you offer suggestions to help my plants survive? – Sam, Strafford, N.H.
A: According to the US Drought Monitor, much of southern New Hampshire is currently in a moderate to severe drought, and the northern two-thirds of the state is abnormally dry. The N.H. Department of Environmental Services recently posted an updated list of know water use restrictions listed by town.
So what's a gardener to do in such dry times? Without unlimited access to water, your best strategy is to focus on your soil's water holding capacity. All soils are not created equal, and some hold water better for longer periods of time. If planting a new area, work in organic matter in the form of compost, shredded leaves, peat moss, coconut coir or rotted sawdust. Incorporate these materials six to eight inches deep, and remember to mulch well after planting with straw, bark mulch or pine needles.
Water very early in the day or after the sun has receded in the evening, which will minimize evaporation. Using drip irrigation or soaker hose provides a slow supply of water that can be absorbed by the soil only around the plants you want to nourish. You can also create a small trench or bowl with existing soil around your plants, which will help capture water and aid in retention long enough to allow water to soak in.
Rainwater catchment systems that collect and store water from your roof can be built inexpensively to reduce demand on wells or municipal sources. You can learn additional water-saving tips from Cathy Neal, UNH Cooperative Extension's nursery and landscape
horticulture specialist.
Lastly, select drought tolerant plants when possible. Take note of landscape plants you observe doing particularly well during hot, dry conditions. These may be worth selecting for your own garden to help insure the ability to withstand climatic challenges.
Jeremy DeLisle is the program coordinator for the UNH Cooperative Extension Education Center. The center answers questions about gardening and more at answers@unh.edu, or by calling (877) 398-4769 Monday through Friday, between 9 a.m. and 2 p.m.