By Ruth Goldstein, MS, RD
Nutrition Counselor, Sojourns Community Health Clinic
In this time of darkness and cold, it is easy to feel down and worried. Food plays a huge role in how we respond to stress and our ability to stay balanced in the face of all that life throws at us. 
Diet: First, it is important to understand some basic eating rules that help to balance mood naturally.
·       Eat three meals and one to two snacks daily
·       Include protein, fat and fiber with each meal or snack
·       Limit sugar & caffeine
·       Limit additives, preservatives, and processed foods
·       Eat whole foods that include vegetables, fruits, beans, nuts, and seeds daily in addition to protein from meat, poultry, fish, or eggs
·       Include healthy fats from avocados, olive oil, coconut, fatty fish, nuts, seeds and grassfed meat and eggs
·       Include live, probiotic foods like yogurt, sauerkraut, and kimchi to help balance bacteria and yeast in digestive system
More specifically, there are a variety of nutrients that play a key role in mood balance, including: 
·       Omega-3 Fatty Acids found in salmon, walnuts, flax
·       Zinc found in pumpkin seeds, lentils, chickpeas, beef
·       B Vitamins found in dark leafy greens (kale, chard, spinach and collards), black beans, lentils, mushrooms, sunflower seeds, salmon, chicken,  spinach, broccoli
·       Magnesium found in pumpkin seeds, spinach, black beans
·       Selenium found in brazil nuts
·       Vitamin D found in salmon, egg yolks
·       High ratio of tryptophan found in pumpkin and sesame seeds
·       Live, probiotic foods such as sauerkraut, yogurt, kimchi
Stress: In addition to diet, there are a number of lifestyle changes that can help keep moods balanced and anxiety and depression at bay. One of the simplest and most effective is managing stress through diaphragmatic breathing. Diaphragmatic, or belly breathing, means inhaling down into your stomach as if you were inflating a balloon. Your stomach expands on the inhale, and your shoulders remain relaxed and your chest remains still. If you try it you will likely find that it feels very odd. That's because we've breathed into our chest for most of our lives, and it is a hard habit to break.  Belly breathing is often touted as important, but providers rarely explain why it is so helpful. The short version of the story is that the vagus nerve, which is in charge of our fight or flight response, is reset by the action of diaphragmatic breathing. The action of breathing down into our bellies shifts our body from "fight or flight" into "rest and digest."
Resources: There are many great resources out there. Here are a few favorites:
·       Katz, Rebecca with Mat Edelson. 2015. The Healthy Mind Cookbook.  Big Flavors to Enhance Brain Function, Mood, Memory, and Mental Clarity. Ten Speed Press. This cookbook has an extensive educational section at the front that details the nutrients and health promoting properties of many of the foods that are used in the book. The recipe included below comes from this cookbook.
·       Center for Mind-Body Medicine. Free Podcasts of meditations with belly breathing, visualizations for relief of stress and trauma. Available at http://cmbm.org/self-care/
·       Segersten, Alissa, and Tom Malterre. 2014. The Whole Life Nutrition Cookbook: A Complete Nutritional and Cooking Guide for Healthy Living. Grand Central Life and Style; New York. This is a general whole foods nutrition cook book with an extensive educational section at the start. The recipes are simple and delicious, and include all of the nutritional powerhouses discussed above.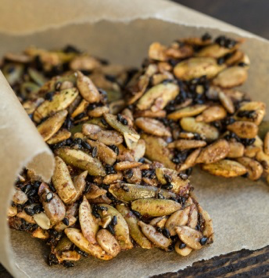 Recipe: Triple Triple Brittle 
Makes: About 2 cups
Prep Time: 5 Minutes
Cook Time: 30 Minutes
This is a fabulous treat for holiday potlucks and parties. It provides a sweet crunch, but is also packed with protein, fat, fiber, and vitamins and minerals that help balance mood.  The sesame seeds are full of zinc, the pumpkin seeds are like little mini antidepressants, and the sunflower seeds are loaded with vitamin E, which helps memory, learning, and overall mood.
1 cup raw pumpkin seeds
¾ cup raw sunflower seeds
¼ cup white or black sesame seeds
2 teaspoons ground cinnamon
1 teaspoon ground ginger
½ teaspoon ground allspice
½ teaspoon sea salt
1/3 cup Grade B maple syrup
1 teaspoon vanilla extract
Preheat the oven to 325°F. Line a rimmed baking sheet with parchment paper. In a large bowl, combine the pumpkin seeds, sunflower seeds, sesame seeds, cinnamon, ginger, allspice, and salt, then add the maple syrup and vanilla and mix until well coated.
Spoon the mixture onto the prepared baking sheet and, with a spatula or a piece of parchment paper, pat and press the brittle into an even layer about ⅛ inch thick. Press out the middle so it's slightly thinner than the edges, which will help prevent the outside edges from burning.
Bake for about 30 minutes or until golden brown. Remove from the oven and allow to cool completely. As it cools it will become crispy. Once the brittle has crisped up, break it into pieces. If the brittle doesn't become crispy after it has cooled, put it back in the oven and bake for 8 to 10 minutes more.
COOK'S NOTES: If you have a small rolling pin—or a wine bottle for that matter—place a piece of parchment paper on top of the brittle mixture and use the rolling pin to create a nice even surface. Warning! Sneaking a taste right out of the oven may burn your tongue.
Reprinted from The Healthy Mind Cookbook Copyright © 2015 by Rebecca Katz with Mat Edelson, Ten Speed Press. Accessed at: http://www.rebeccakatz.com/recipe-box/triple-triple-brittle on 9/30/2015. 
*******************************************************
Ruth Goldstein, MS, RD, LD is a Registered Dietitian who works for Sojourns Community Health Clinic in Westminster, VT. Ruth's primary focus is on whole foods nutrition and helping clients set practical goals that reflect their lifestyle and health needs. Ruth's particular areas of interest include gut health, food intolerances, emotional eating, and eating disorders. Ruth graduated from Bastyr University with a Master of Science degree in Nutrition and completed her dietetic internship at Keene State College.  
Sojourns Community Health Clinic was founded as an innovative response to the need for a change in how our culture views health and delivers healthcare. Sojourns offers nutrition counseling, physical therapy, biologic and functional medicine, chiropractic, acupuncture, naturopathic medicine, craniosacral therapy, massage therapy and more. Sojourns is located at: 4923 US Route 5 Westminster, Vermont 05158 Tel: 802.722.4023 Fax: 802.722.4137