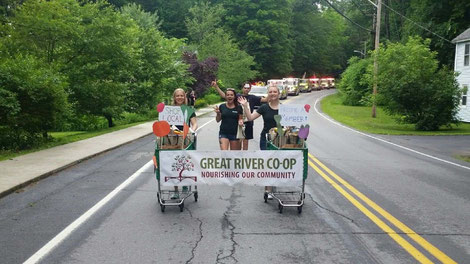 Great River Co-op Board Members and Volunteers came together to decorate shopping carts borrowed from Mr. G's Liquidation Center for the Walpole Old Home Days Parade last Saturday.  Rain threatened to ruin the handmade signs and shopping bag props, but ended up holding off and we had a lovely day for a town-wide celebration! 
The Co-op also had a table set up on the common, and we received a number of new member-owners, plus more people willing to volunteer. 
The next step for the Great River Co-op is hiring a Project Manager.  We're kicking off a fundraising campaign to raise $40,000 by the end of the year, and we can use your help!  Here's how...
1. Join as a member-owner. One share is only $25, and four shares make you a voting member!
2. Make a donation to help us reach our fundraising goal
3. Volunteer to help at Pizza Night or one of the other super fun upcoming events we have planned!  Email us at info@greatriverfoodcoop.com to inquire about volunteer opportunities
4. Join our email list to keep up with what's happening!
5. Spread the word to your family and friends
We appreciate the enthusiasm of our member-owners and our community. Let's make this store happen!