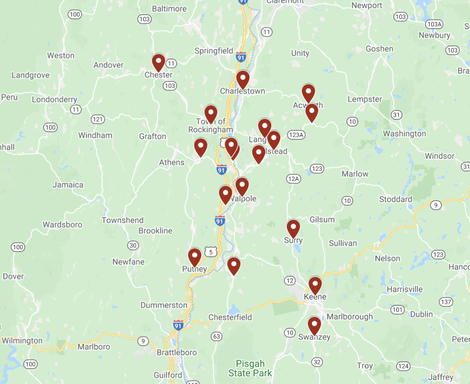 The Great River Co-op is a cooperative grocery store in the development stages that will be coming to Walpole, New Hampshire.
As we excitedly sign people up for the Great River Co-Op memberships, we love seeing where all of the support and our future shoppers live and are coming from.
We are blown away by how many are committed to shopping local and supporting small business in our community here.
Let's start with some local love! 
In our backyard, we have members from New Hampshire in Acworth, Alstead, Charlestown, Chesterfield, Claremont, Drewsville, Keene, Langdon, Lisbon, Marlow, Newport, North Walpole, South Acworth, Spofford, Sullivan, Surry, Swanzey, Walpole, West Swanzey, Westmoreland, and Cornish.
Our Vermonters come from Bellows Falls, Brattleboro, Cambridgeport, Chester, Grafton, Jamaica, Putney, Rockingham, Saxtons River, Springfield, Westminster, and Windham.
Our Massachusetts members hail from Northfield, Princeton, Watertown, and Stockbridge. We even have members in Florida, all the way from Bradenton, Terra Ceia, Lake Mary, and Valrico. Other cities and states where we are seeing members come in from are New Orleans, LA, Chelsea, MI, Savage, MN, Philadelphia, PA, Nashville, TN, and Moab, UT.
Helen Keller said, "Alone, we can do so little; together, we can do so much." We believe in the power of the community to come together as we start to further spur on our local economy, change lives through better health and nutrition, and provide people with a place to call home.
It is the vision of the Great River Co-op that all people in the Great Falls region live healthy lives within an environment that provides access to locally-grown and locally–produced foods and strong community-based connections.
To date, we have welcomed in 864 members both locally and across the miles and we could not be more grateful for all of those who are supporting us in making the Great River Food Co-op possible.
Will you be one of the member-owners that helps bring our membership to 900?
To learn more and join us: https://www.greatriverfoodcoop.com/make-it-happen/join/