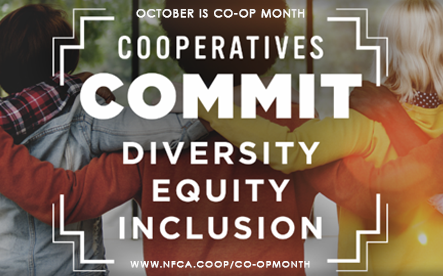 This October, Great River Co-op is joining co-operatives and credit unions across the United States in celebrating Co-op Month, observed nationally since 1964. This year's theme, "Co-ops Commit: Diversity, Equity & Inclusion," was chosen by the National Cooperative Business Association (NCBA CLUSA) to promote how co-ops and their members are working together to build more inclusive businesses and more resilient communities.
Over the summer, the Great River Co-op co-hosted the NH Greater Falls Farmers Market, and is beginning to plan for the holiday market in November - please reach out to info@greatriverfoodcoop.com if you'd like to be a vendor.  
And, if you haven't joined the co-op yet, now is the time. Through October, when you join as a voting member - or upgrade your current membership by buying more shares to become a voting member, you'll get a Great River Tote Bag.
To learn more and join visit www.greatriverfoodcoop.com.